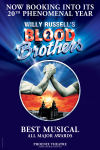 Blood Brothers
w Phoenix Theatre
Cena od 145 PLN
Blood Brothers wystawiany w Londynie to prawdziwy klasyk! 25 lat na West Endzie i Blood Brothers nadal odnosi sukcesy. Tutaj kupisz bilety na musical Blood Brothers wystawiany w Londynie! – i to z rabatem!

To aktualne i prawdziwe teatralne dzieło sztuki!

Premiera musicalu Willy Russela Blood Brothers odbyła się w Londynie w roku 1983. W tej chwili, ponad 25 lat później, Blood Brothers to nadal prawdziwy klasyk.

Do niewiarygodnych przebojów należą "Bright New Day", "Marilyn Monroe" i naładowany emocjami hit "Tell Me It's Not True". Blood Brothers okrzyknięto jednym najlepszych musicali wszechczasów.
Blood Brothers Recencjach
"A MIRACLE! STILL UNMISSABLE AND UNBEATABLE"
The Mirror
---
"THE BEST MUSICAL IN THE WEST END"
The Spectator
---
"GRIPPING, GRITTY AND SUPERBLY HUMMABLE - IT'S A MUST!"
Mirror on Sunday
---
Informacje o miejscu
Pokaż informacje
Spektakle wieczorne
Monday to Saturday 7:45pm
Spektakle popołudniowe
Wednesday, Thursday 3pm and Saturday 4pm
Rezerwacja do
2012-10-27
Czas trwania:
2 hours and 45 minutes
Instrukcje
Instrukcje
(3mins) Take Tottenham Court Road south (towards Leicester Square) and the theatre will be on your left after 100 metres.

Wyświetl mapę