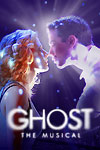 Ghost The Musical
w Piccadilly Theatre
Cena od 310 PLN
Musical Uwierz w ducha (Ghost), oparty na filmie, który zdobył Nagrodę Akademii, a w którym występowały takie gwiazdy jak Patrick Swayze, Whoopi Goldberg i Demi Moore, będzie wystawiany w londyńskim Piccadilly Theatre od przyszłego lata.

Nowy wspaniały musical UWIERZ W DUCHA (GHOST), oparty na fenomenalnym filmie wytwórni Paramount Pictures, który zdobył Oskara, do którego scenariusz napisał Bruce Joel Rubin i w którym występowały takie gwiazdy jak Patrick Swayze, Demi Moore i Whoopi Goldberg, zostanie wystawiony w Piccadilly Theatre w czerwcu 2011 roku.

Ponadczasowy wątek potęgi miłości, w którym Sam zostaje uwięziony pomiędzy naszym światem a światem umarłych, próbując nawiązać kontakt ze swoją dziewczyną Molly za pośrednictwem fałszywego medium w nadziei na uratowanie jej przed mordercą.

Zwariowana mieszanka wątku miłosnego, dramatu i emocji, oscarowy scenariusz Bruce'a Joela Rubina, który zaadaptował go na potrzeby sceny. Musical UWIERZ W DUCHA (GHOST) otrzymał nową muzykę i teksty, które przygotowały legendy, zdobywcy nagród Grammy: Dave Stewart (Eurythmics) i Glen Ballard (który napisał słynny przebój Michael Jackson Man In The Mirror), w którym nadal możemy podziwiać niezapomniany utwór "Unchained Melody".

Przedstawienie wyreżyserował wielokrotnie nagradzany Matthew Warchus, scenografię zaprojektował Rob Howell, a niesamowite efekty sceniczne opracował Paul Kieve (iluzjonista w Harrym Potterze i w Więźniu Azkabanu), musical UWIERZ W DUCHA (GHOST) obiecuje spędzenie czarodziejskiego wieczoru, który szybko poprawi humor i stanie się teatralnym wydarzeniem 2011 roku.
Ghost The Musical Recencjach
"Looks set to keep audiences laughing, gasping and sniffling back tears for a long time to come."
Daily Telegraph
---
"A new West End Hit has landed."
Time Out
---
Ghost The Musical Komunikat prasowy
Ghost the Musical at Piccadilly Theatre GHOST is a timeless fantasy about the power of love. Sam is trapped as a ghost between this world and the next trying to communicate with his girlfriend Molly ...


Info
Informacje o miejscu
Pokaż informacje
Spektakle wieczorne
Monday to Saturday 7.30 pm
Spektakle popołudniowe
Thursday and Saturday 2.30 pm
Rezerwacja od
2011-06-24
Rezerwacja do
2012-10-06
Czas trwania:
2 hours 30 minutes
Instrukcje
Instrukcje
(2mins) Pass the famous illuminated signs on your right to take Glasshouse Street/Sherwood Street where the theatre can be seen.

Wyświetl mapę