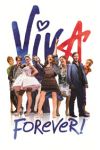 Viva Forever!
w Piccadilly Theatre
Cena od 245 PLN
Viva Forever! To przedstawienie na jakie czekałeś w Londynie! Viva Forever! jest nowym musicalem Spice Girls nadchodzącym do Londynu w grudniu. Zarezerwuj bilety tutaj!

Spektakularny nowy musical Spice Girls Viva Forever! nadchodzi do West End Piccadilly Theatre w grudniu.

Upewnij się, że będziesz pierwszy w kolejce do obejrzenia tej wspaniałej, poprawiającej nastrój fabuły, zawierającej 16 z największych hitów Spice Girls. Autorami tego spektaklu są twórcy światowego mega hitu Mamma Mia! Viva Forever! zostało napisana przez gwiazdę Ab Fab (i Spice World The Movie), Jennifer Saunders.

Opowiada o wzlotach i upadkach matki i córki, które biorą udział w telewizyjnym konkursie wokalnym, wzbogacony niezapomnianymi piosenkami Spice Girls, włączając 'Wannabe', 'Say You'll Be There', 'Mama', 'Stop' i oczywiście 'Viva Forever' .

Spice Girls to największy zespół kobiecy w ciągu ostatnich 20 lat, stanowi on niezapomniane tło dla tego przedstawienia! To będzie WIELKI przebój, więc zarezerwuj bilety teraz i 'Say You'll be There!' (powiedz, że tam będziesz).
Informacje o miejscu
Pokaż informacje
Spektakle wieczorne
Monday to Thursday and Saturday 7:30pm, Friday 8:30pm
Spektakle popołudniowe
Friday 5pm and Saturday 3pm
Rezerwacja od
2012-11-27
Rezerwacja do
2013-06-29
Instrukcje
Instrukcje
(2mins) Pass the famous illuminated signs on your right to take Glasshouse Street/Sherwood Street where the theatre can be seen.

Wyświetl mapę